BigBlueButton (under evaluation)
With BigBlueButton, web conferences can be held in the browser. These can also be conveniently created from Stud.IP and ILIAS.
Contents
Functions
Requirements
Creating conference rooms
Guides and contact informations
BigBlueButton (BBB) is an open-source web conferencing system that is operated in a data protection-compliant manner together with the Philpps-Universität-Marburg. The following scenarios can be implemented with BBB:
Lectures: up to a maximum of 250 participants (audio/chat), video stream/webcam for lecturers and moderators.
Seminars/exercises/projects: up to a maximum of 100 participants (audio/chat/video/webcam)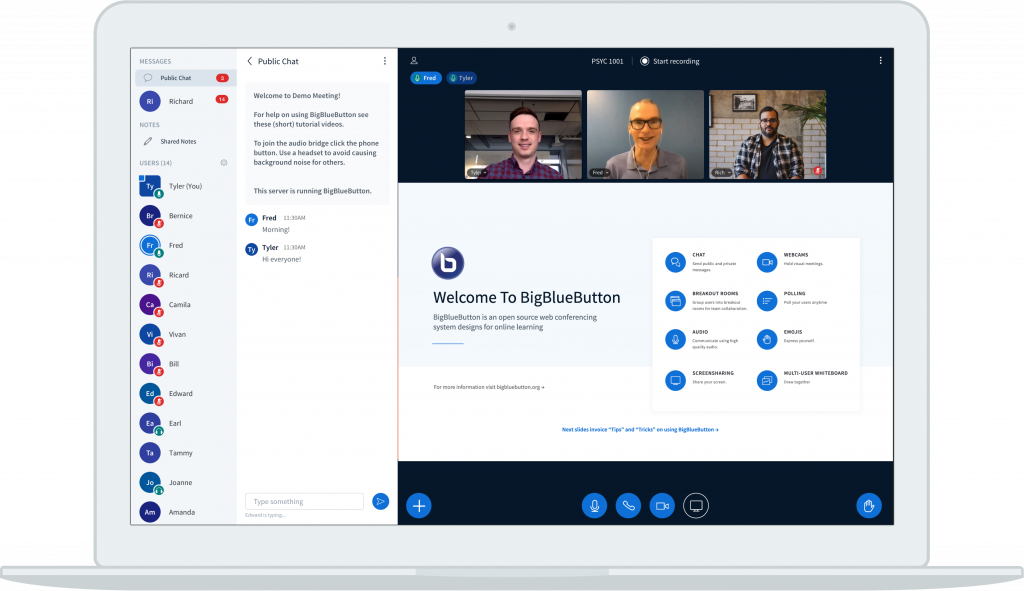 Image source: https://bigbluebutton.org/teachers/features/
The BigBlueButton deployment is part of an evaluation process. This means, among other things, that settings and functionality may change due to operational safety.
Functions
The application offers many important functions for online teaching, e.g.:
Share audio/video
Share screen
Share presentation
Chat with all or individual participants
Conduct polls or surveys
Whiteboard for collaborative content development
Shared notes for the development of content or for minutes
Break-out rooms: use additional rooms for group work in parallel for a defined period of time
Telephone dial-in (e.g. as fallback in case of audio problems) possible
Requirements
BigBlueButton works in the browser, there is (currently) no official app. As a browser, we recommend Google Chrome (or Chromium / the new Microsoft Edge Chromium) or Mozilla Firefox on all platforms (Windows, MacOS, Linux). On iPhones and iPads, Safari must be used, but splitting the screen and activating the virtual background are not possible there, just as on Android mobile devices. Please note that there is currently no recording function available. Further information on the system requirements can be found in the FAQ.
Creating conference rooms
Conference rooms can be created
via Stud.IP (as a teacher in the course -> More -> Activate "Meetings"),
via Webconf (to generate an invitation link that can be sent by e-mail, login with the user name and password of JLU).
Contact
If you have any questions, please contact the BBB hotline at the HRZ at
bbb@hrz.uni-giessen.de